Human Resource Information
Want your business information displayed? Contact us today to submit your HR Details
Throughout 10 years of experience working with businesses across industries, sizes, and circumstances, one factor has consistently shown to be a universal game-changer: the people. I have made it my passion to help businesses realize and address opportunities that exist within their workforce that are costing them valuable time, money, and sanity!
Human Resources is not just for corporate America. There are huge benefits to be gained through injecting this expertise and perspective into even the smallest operation. Without this, so many leaders end up putting their business at unnecessary risk, experiencing unnecessary stress, and preventing themselves from realizing substantial untapped potential through gains in employee engagement, productivity, and ultimately profitability. This often only becomes apparent far too late after a failed audit, employment lawsuit, or loss of key talent.
Whether restaurant, medical practice, non-profit, or skilled trade, I have had the pleasure of providing peace of mind and value to business owners and leaders across WNY. It is my goal to have the opportunity to demonstrate this same value for your business.
Emily Martin MBA, SPHR, Founder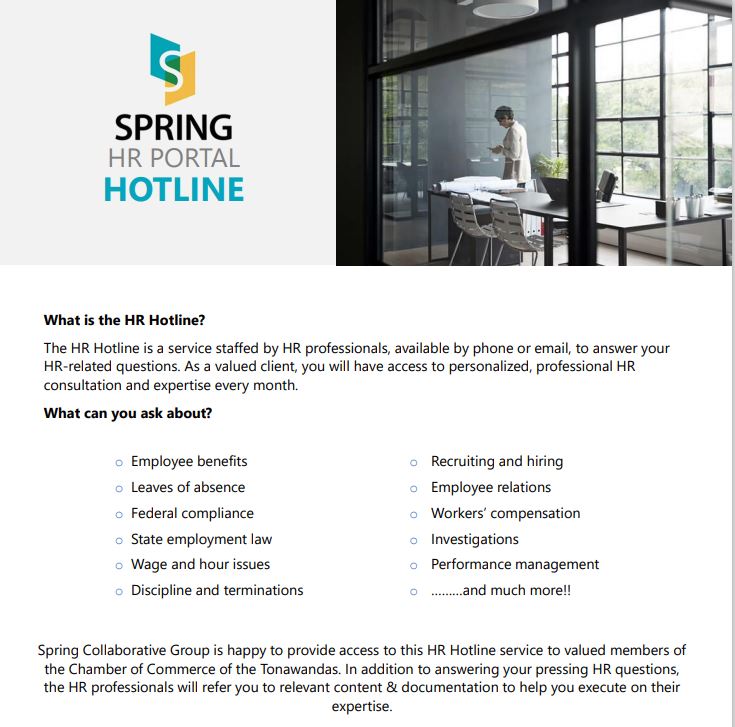 For more information, please contact the Chamber at 716-692-5120
For more information from Spring Collaborative